root beer braised short ribs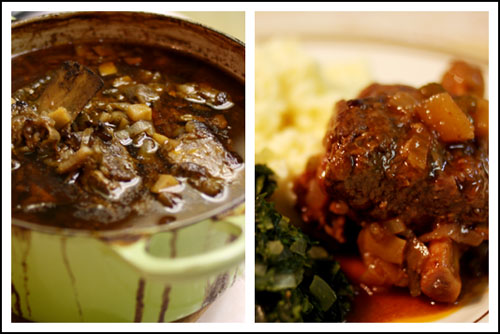 For Easter, my friend, Jaime, got a new Le Crueset pot in Kiwi. I had gotten the same pot for Christmas. She suggested she wanted to make braised short ribs, and passed along some recipes. The plan was to make them together (1500 miles apart), and compare notes, but alas that didn't quite work out. Never fear, there will be more short ribs to make!
Since it just so happened, we had bought some root beer, I honed in on the root beer braised short ribs recipe. They all looked pretty tasty though. I modified
the original recipe
from the Miami Herald, just a bit. I just didn't think fake beef bouillon cubes (which was all they had at my local Whole Foods) was the way to go. Also, I ended up buying only 3 pounds or ribs, which is a good thing as that is all that would fit in the pot. I still made the same amount of sauce though.
One more note: definitely make this recipe the night before you want to serve it. It will make removing the extra fat much easier. Plus I think they got better the second night.
Here's the recipe:


¼ cup flour


2 tablespoons cooking oil


3 pounds bone-in beef short ribs


2 ribs celery, sliced


2 medium onions, peeled and sliced


2 medium parsnips, peeled and sliced


6 garlic cloves, peeled


1 (12-ounce) bottle root beer, preferably micro-brewed


1 ½ cups beef broth


2 tablespoons tomato paste


2 tablespoons balsamic vinegar


2 bay leaves
Heat oven to 300 degrees. Place flour in a gallon-size food-storage bag. Season ribs with salt and pepper.
Heat 1 tablespoon oil in a Dutch oven over medium-high heat. Working in batches, add the ribs to the bag, shake to coat with flour, shake off the excess and brown well on the meaty side, 3 to 5 minutes. Set aside.
Heat remaining 1 tablespoon oil in the pot. Sauté the celery, onions, parsnips and garlic over medium heat until lightly browned, about 5 minutes. Add root beer, bouillon, tomato paste, vinegar and bay leaves. Bring to boil, stirring to loosen browned bits on bottom of pan.
Return short ribs to Dutch oven, partially submerging them in the liquid. Cover tightly. Braise in oven 3 hours. Let cool, then refrigerate the sauce separately and remove the hardened layer from the top. Pour the sauce over the dish and reheat it, covered, in a 350-degree oven for 20 to 30 minutes.
We got just shy of 6 servings with only 3 pounds of ribs. The original suggested a pound of ribs per person. We served it with mashed potatoes and sauteed spinach.
If you want the entire list of recipes I had to chose from,
go here
. I suspect I will try at least one of the others.
Enjoy!
on the night stand ::
A Reliable Wife
Labels: cooking, le crueset, recipes, root beer, short ribs